Monthly Archive for November, 2009
What a beautiful day today turned out to be. The sun was shining bright so Jan and I decided we needed to go for a trike ride. Neither of us could really come up with a place to go. After a little thinking, we remembered hearing about the "Balloons Over Anderson Festival".  Anderson, SC is about 40 miles from here, so it seemed like the perfect ride. When we arrived at the launching field we were both pretty disappointed. The only balloon inflated was a display.  There wasn't much activity and we both thought it was gonna be a bust. But in the time it took us to walk over to a vendor for a drink, one of the crews started inflating a balloon and within about 45 minutes we watched about 25 different balloons launch. It was an awesome site!
(I'm using a new slideshow program, so here's a little tip on viewing the images- below the thumbnails, on the right side you will see a black buttons "SL"- slideshow and  "FS"- fullscreen. If you click "FS" and then "SL" you will see a fullscreen slideshow. You can exit the slideshow by pressing your "ESC" key.)
Just over a year ago we had a new roof put on the house due to a leak in the sunroom. Well- the other day we were sitting here listening to it rain when we heard a very distinct sound. Drip Drip Drip…. A leak in the sunroom again… The roofers came out to fix the problem. We hope!
Over the past 3 weeks, I've lugged my Nikon and tripod  out to the lake a dozen times to take a picture of the trees across the lake. I've chronicled the changing of the leaves, so I could make a little time lapse video. But sadly enough, I actually like the photo I took with my point and shoot (above) a lot better than any of the photos taken with my SLR (below).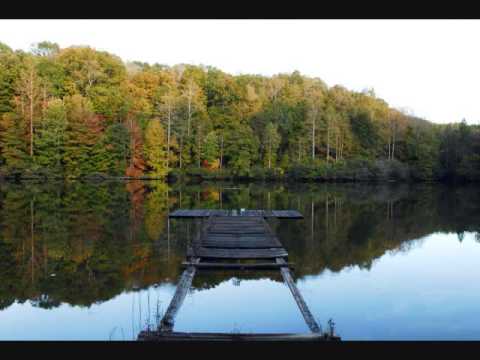 BullWinkle is our eldest kitty- she will be 12 in February.