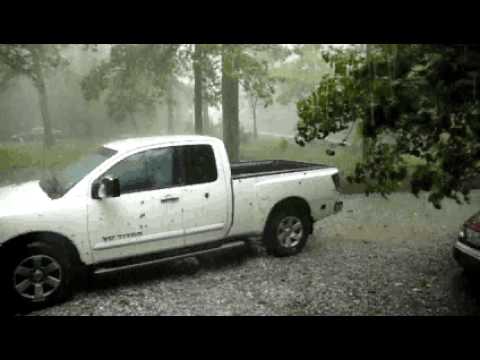 We had one heck of an interesting storm yesterday evening around 5:45pm. We had been relaxing around the house when we heard a little bit of thunder. Within minutes the winds picked up and the floodgates were opened.
We got about 2.25 inches of rain in approx 30 minutes. That's the hardest I seen it rain in a long time!
This storm brought winds in the range of 65 mph. It wasn't a widespread storm- but it sure packed a punch! Several trees within our neighborhood toppled to the ground. Most of them were pine trees. We also lost 5-6 power poles that snapped like toothpicks.
There is no way to get a good scope of how big this pine tree is- I suspect it's a good hundred feet tall or more- This tree was on the far end of our lot- but managed to make it's way through the woods and take down our power line. If you look real hard you can see the line in the lower right hand side of the pic.
As you can see- the conduit containing our power line was ripped from the side of the house- We were fortunate the line within the conduit was undamaged and our power was restored around 5am this morning.
The Glassy Mountain Fire Department Rescue Unit came out to the neighborhood to clear the roads of fallen trees. I think the best part of the storm came about 3:30am – there was a knock on our door- it was the Linemen from Blue Ridge Power here to reattach the power to our house. When I answered the door the lineman said "Ma'am, I hate to bother you! But were fixin' to do some pounding on the side of your house!" There is no doubt we live in the south!The storm did produce some beautiful fog along the lake and in the hills surrounding us…