Tag Archive for 'Leaves'
Over the past 3 weeks, I've lugged my Nikon and tripod  out to the lake a dozen times to take a picture of the trees across the lake. I've chronicled the changing of the leaves, so I could make a little time lapse video. But sadly enough, I actually like the photo I took with my point and shoot (above) a lot better than any of the photos taken with my SLR (below).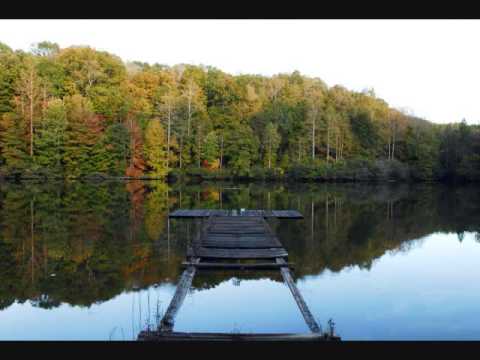 Last night I talked to our neighbor- Keith the "Redneck", about borrowing his BIG leaf blower. We needed to get the leaves up off the ground so our other neighbor- Eric the "Landscaper" could bring his crew over to put down some more seed and see if we could get this yard looking half way decent. Anyway, back to Keith. When we talked to him earlier this morning he said the leaf blower was a bugger to get started so to let him know when I would be coming to get it, and he would help me get it started. Well the next thing we knew- he was out there clearing the backyard! So does that mean we now have to start referring to him as Keith the "Saint"?
Jan was in the computer room earlier and I went back there to chat with her, and I mentioned I had fed the birds earlier- she thanked me and then commented "Yesterday? The feeders are half empty!" I told her "No, just about 2 hours ago!" Thats when we noticed we had a little chipmunk that kept jumping up on the feeder and filling his cheeks… I bet he made 15 trips getting seed while we watched. Cute Little Thief!
Here's the view from the computer room

Today turned out to be one of those days that felt good to hang around the house. We had to run into town this afternoon for some errands, and this is the sight we returned to. Beautiful!!

Jan spent a good bit of time this afternoon trying to blow the leaves into the woods, while I was mowing the bank in the backyard. It's incomprehensible the number of leaves we have to deal with each year.
It's official… today is the first day of Fall. The days are getting shorter- and the nights longer. In a way, it's kind of depressing to me- we are ushering in colder weather- the tree's will all change and lose their leaves…
Don't get me wrong- I think fall foliage is one of the most beautiful times of the year. But I love the spring day when things become alive again- and the temperatures rise!
I'm one of those people that need the daily sunlight to feel good. I guess I need to buy a bunch of Vitamin E…
The season changes are a lot milder here in the south, compared to my home state of Nebraska- and Utah where I had spent 10 years of my life. But if I had my way- it would be 78 degrees year-round. I mean really- who needs the changing seasons…