Tag Archive for 'Looking Glass Falls'
Today we took our weekly ride with Ken and Linda- and guess what? It didn't rain. It's rained on us every other time we rode with them. But today was beautiful. Greenville's temperature was to reach 97 degrees today- but we headed up to the mountains where it was much cooler. We drove up to North Carolina and took a ride through Pisgah National Forest and stopped off at Looking Glass Falls.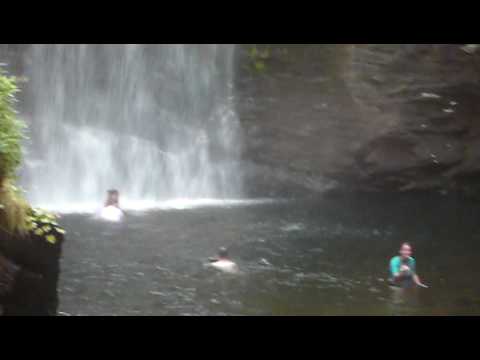 Looking Glass Falls is one of the most visited falls in the Southeast- mostly because it's very easily accessed (you can view it right from the highway, or walk down some steps to the base of the falls) and it's proximity to the Blue Ridge Parkway. The falls consist of a 30 foot wide cascade and a heigth of 60 foot, it may not be impressive in height, but it's ranked highly for it's beauty.
The views on the Blue Ridge Parkway were stunning- it was a bit hazy today- so you couldn't see as far as you normally could. Even so, we could see for miles in all directions.
Common sight on the road today.
While we were riding on the Blue Ridge Parkway, we entered the Devils Courthouse Tunnel,- which naturally passes through Devils Courthouse Mountain located in Western North Carolina's Appalachian Mountains. Folk tales say the Devil holds court in a cave in the mountain- personally, I just think it's a pretty mountain- with a dark tunnel….