Brookings, OR

Our goodbye breakfast with the gang- Joie, Sue, Jan H, Jan & Lori (sadly, Myra couldn't be there- we missed you Myra!) We had a lot of laughs this morning- right Sue?
Whaleshead Beach
Bandon, OR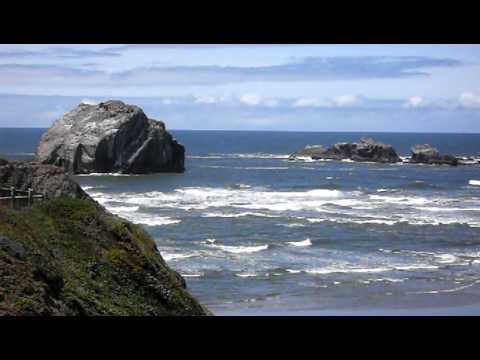 The waves at the beach in Bandon were awesome- they were coming from multiple directions.


We stopped off at Billy Smoothboars in Bandon to visit with Molly- we met her nearly 2 years ago on our first trip up the coast.
Coos Bay, OR

It was time for us to take care of our beautiful trike, so we stopped at Honda World in Coos Bay for an oil change. What an awesome bunch of folks- they got us in right away and had us rolling in no time.
Heceta Head Lighthouse- Florence, OR

Welcome to Heceta head Lighthouse near Florence, OR. The lighthouse is a special place for us. Jan considers it to be her "Spiritual" place here on the west coast and on our first visit to OR together- this was the one place she really wanted to share with me. I'm so glad she did! It's such a beautiful place. I love listening to the sea lions right below you at the overlook point.

Newport, OR
Here we are in Newport, OR- seems like a mighty fine place to spend the night.

Lost Creek Beach

Here are the "treasures" we found on the beach tonight- we spent about an hour. (until we nearly froze to death) Some of the rocks are just interesting, some are agates, there are some fossils, shells, a piece that I believe is petrified wood and odd looking white rocks that remind me of salt crystals. I have no idea what they are- but hey they look cool….
Newport, OR -Harbor

What a great day we had! Can't wait for tomorrow- we will be heading up to the Seattle area- I've never been to Seattle- so Jan is excited to take me on the ferry.