BRRRRRRR…. BRRRRRRR…. BRRRRRRRR- Did I say BRRRRRRR?

Oh my… is that rain on our windshield? This was our first day with any amount of rain at all. Thanks to our Frogg Toggs we both stayed dry. We even saw a few flakes of snow falling. We decided with the rain and cold, to bypass Seattle this trip- so we didn't ride the ferry.
Today was without a doubt a gloves day (I actually had on 2 pairs) – I think it turned out to be probably the coldest day so far of our trip- I'm sure Jan would agree with me on this one! Yup! She agrees…. It was cold!! I would love a nice 75 degree sunny day!
It ended up raining the majority of the day. I didn't take as many pictures as I would have liked to, but my camera lens kept getting wet.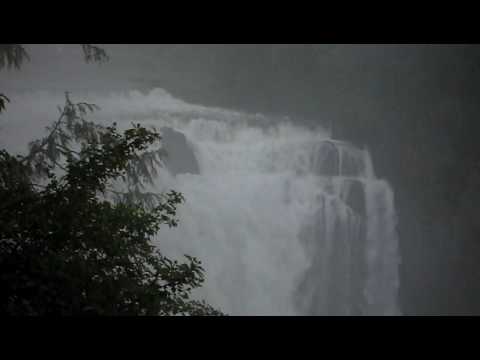 Snoqualmie Falls, WA -The falls were awesome- it was so misty you couldn't see the bottom- but WOW! Can you tell- I love waterfalls! The falls are 270 feet high and located between Snoqualmie and Fall City, WA

We are now in Cle Elum, WA- and plan to be here the next few days- We have a nice warm room and the company of our good friend Cheryle.