Tag Archive for 'Trees'

I guess I was a bit late this year to get a GREAT fall colors photo from the lake. But it's still beautiful out there!
Last nights storm sure did a number on the upstate. Over 10,000 homes lost power due to ice pulling down trees and power lines. We lost our power about 2:30 in the morning and got it back around 9am- until about 10:20am… then lights out again. And let me tell you something, after all that time of no power and heat, it sure got cold in here. At one point Jan and I were sitting on the couch with 3 blankets over us, and all 4 cats were curled up on us to stay warm. We lost at least 2 trees down by the lake, and most likely several more along the dam of the lake. The one tree that really worries me is along the side of the house. It's a huge pine, and it's covered in ice- leaning right at the power line. We tried to get the crew to take care of it- but since it would only affect our power if it falls, they said they weren't going to worry about it for now. The guy told us to give them a call after the cleanup of this storm is over, and they will put in a work order to take care of it. I just hope it doesnt decide to snap.
Corey came back over today- he helped us install the gutter on the front of the carport- and he trimmed the trees

from around the top of the house. It sure looks so much nicer having things cleared out!



We FINALLY got someone who was willing to come out to our place and cut some trees in our lot. After the storm several weeks ago when we had the huge pine come down and take out our power line- we got to looking at the remaining pines in our lot and decided we needed to do some thinning. Basically we want to take all of the pines out of the lot- and only leave the hardwood trees. We have called several folks to see if they could come out and do some cutting, but we haven't had any luck finding anyone willing to do an honest days work for an honest days pay- until now! Today 2 young men, John and Corey, came out and fell 5 or 6 pines. They did a great job!
Unfortunately, I didn't get any great photos of them with the chainsaw, or as the trees were falling- I was too busy sitting in the house watching Oprah interview Elizabeth Smart! I'm sure most of you remember when Elizabeth was kidnapped from her bedroom in Salt Lake City. At the time I was working at The Salt Lake Tribune. It was the biggest story of the year- I will never forget the day, 9 months after her kidnapping, when a reporter came into our afternoon "huddle" (where all the editors get together to discuss story and photo play for the next days edition) and said "They found Elizabeth Smart! Alive!! in Sandy!!!" (Sandy is a suburb south of Salt Lake)
Over the last few days several different crews have come out to the neighborhood to clean up after Saturday evenings storm.
The county came out and cleaned up trees that were still in the roadway… (while they were here, Jan asked if they could use their equipment to scoop the leaves out of our front ditch- and happily, they did! Yea!)
Blue Ridge Electric finished clearing the tree off our power line…
They also rewired our outdoor light- without that light- it sure gets dark out here!
We still need to have an electrician permanently fix the connection to the house- (we are checking into getting the power line buried so we don't have to worry about the trees) We also need to get a tree service to come out and cut up the downed trees in our lot. It's too big of a job for Jan and I. And we need to get the vinyl siding folks out here to fix the gaping hole left in our siding where the power was originally attached to the house.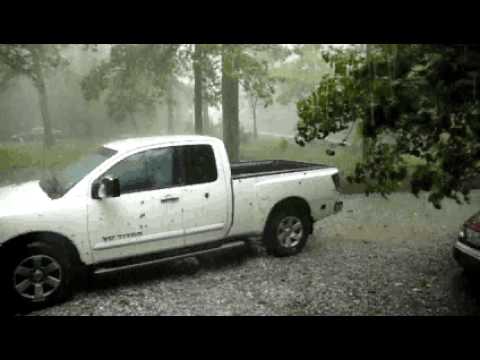 We had one heck of an interesting storm yesterday evening around 5:45pm. We had been relaxing around the house when we heard a little bit of thunder. Within minutes the winds picked up and the floodgates were opened.
We got about 2.25 inches of rain in approx 30 minutes. That's the hardest I seen it rain in a long time!
This storm brought winds in the range of 65 mph. It wasn't a widespread storm- but it sure packed a punch! Several trees within our neighborhood toppled to the ground. Most of them were pine trees. We also lost 5-6 power poles that snapped like toothpicks.
There is no way to get a good scope of how big this pine tree is- I suspect it's a good hundred feet tall or more- This tree was on the far end of our lot- but managed to make it's way through the woods and take down our power line. If you look real hard you can see the line in the lower right hand side of the pic.
As you can see- the conduit containing our power line was ripped from the side of the house- We were fortunate the line within the conduit was undamaged and our power was restored around 5am this morning.
The Glassy Mountain Fire Department Rescue Unit came out to the neighborhood to clear the roads of fallen trees. I think the best part of the storm came about 3:30am – there was a knock on our door- it was the Linemen from Blue Ridge Power here to reattach the power to our house. When I answered the door the lineman said "Ma'am, I hate to bother you! But were fixin' to do some pounding on the side of your house!" There is no doubt we live in the south!The storm did produce some beautiful fog along the lake and in the hills surrounding us…